As a frequent WordCamp Sponsor, our team has the opportunity to travel and meet a lot of companies in the WordPress community doing a variety of interesting things.
One of those companies is Themeum, a company working on WordPress theme and plugin development. As a fellow-sponsor at WordCamp Kuala Lumpur, we wanted to give their products a try on Shifter.
Page Builders on Shifter
Page builders and Shifter go great together. Our team has noticed a boom in the quality and complexity that page builders can offer. The ability to create unique layouts, customize, or import pre-made layouts has never been this easy.
The major benefit of any page builder on Shifter is our static site generator. Create layouts without the worry of longer page load times since there's no database to query or slow down on static sites.
Despite the launch of Gutenberg in WordPress Core, we do believe that page builders will always have an edge on the Gutenberg Block Editor. Whether it's rapid development among teams dedicated to just working on their products or those teams building integration for Gutenberg a new ecosystem of theme dev tools is out there so dig in and give them a try.
Getting Started with WP Page Builder
This plugin is freely available in the WordPress Plugins directory with an option to go premium.
The free version offers a block editor, layout builder, some pre-made full-page layout options, and more. It's a great option to start with and try but there may be some components you're looking for that are only available on premium.
Here's a video walk through of getting started with WP Page Builder by Themeum.
WP Page Builder WebPageTest Benchmarks on Shifter
Out of curiosity, we performed a benchmark test using WebPageTest.org, a free tool for testing sites publically available from different locations around the world.
WebPageTest is our go-to testing tool for its availability and straightforward options.
For this test we set it to run three times and report the average using a cable connection from Virginia. It's also set to perform a retest after each visit and record the repeat view as well.
Our first load time without any cache is just above 1s at 1.094s! Sub-second load times are always preferred but 1.094s is great too so we'll take it.
On repeat views, that load time drops to just 1.074s, 2/100th's of a second faster than the first visit.
It's also worth noting this Shifter site using WP Page Builder received A's across the board in every category including Time to First Byte (TTFB), Image Compression, Caching Static Content, and Effective use of CDN.
All of these features are available by default on every WordPress site hosted on Shifter without any caching plugins or custom settings required.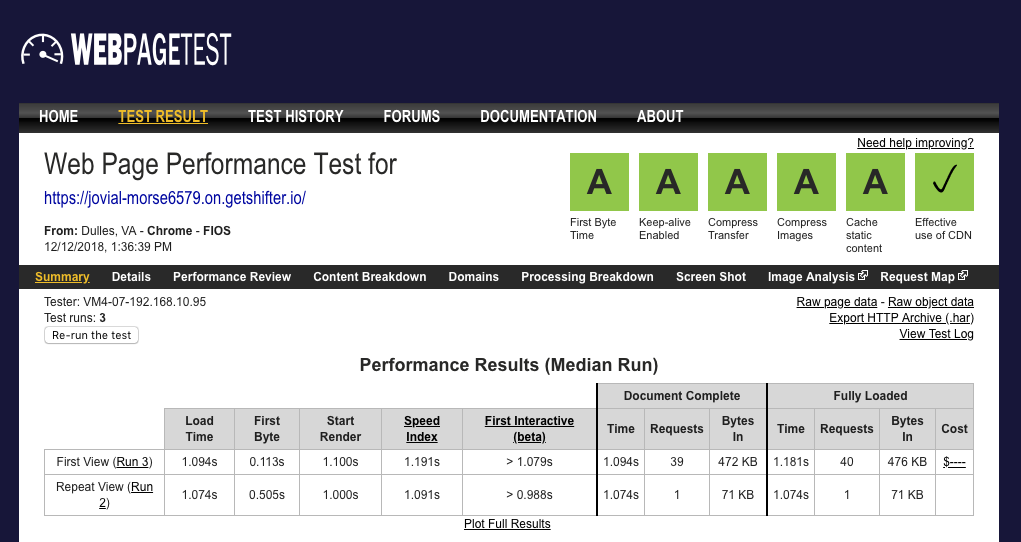 Other Products by Themeum
The Themeum team also offers a variety of Themes and Plugins such as Mega Menu.
Mega Menu in particular is one we've been excited to see as there are still very few options for this type of web component that work well.
With the progress made by theme builders, layout plugins, etc. menus are still a pain point but Mega Menu by Themeum is one of the few options that does this well.