Shifter in Action: A Case Study for Serverless WordPress
Shifter brings the unmatched speed, security, and scalability of serverless architecture to the WordPress platform. Best of all, it solves high-traffic concerns while keeping costs low, so you'll never pay more for what you need.In this post, we'll feature an event sales site to show you just what Shifter can do to accommodate traffic spikes, reduce costs, and ensure security.
In this post, we'll feature an event sales site to show you just what Shifter can do to accommodate traffic spikes, reduce costs, and ensure security.
The cost-efficient choice
Whether your site sells tickets to concerts, sporting events, live theater, or conferences, it cannot fail. If you lose traffic, you lose sales—and that's not something your business can risk.
You know you'll need to increase your server capacity for an upcoming event, but by how much? It's impossible to know exactly, so you'll probably upgrade to a high spec server ahead of time to be prepared.
This is what could happen: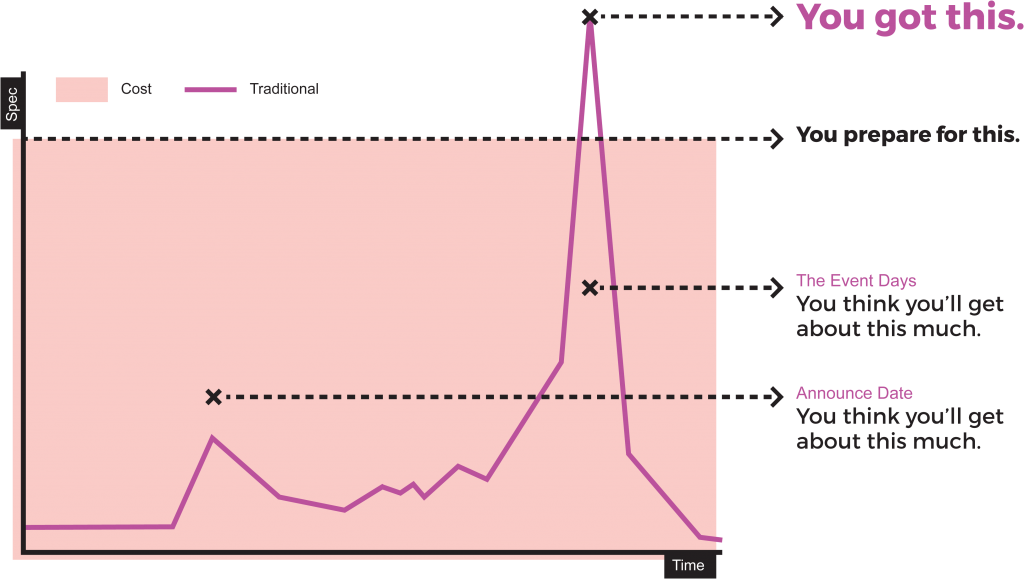 You invested the money to accommodate increased site traffic—but you still weren't prepared and lost the opportunity (and the cash).
With Shifter, this is what would happen: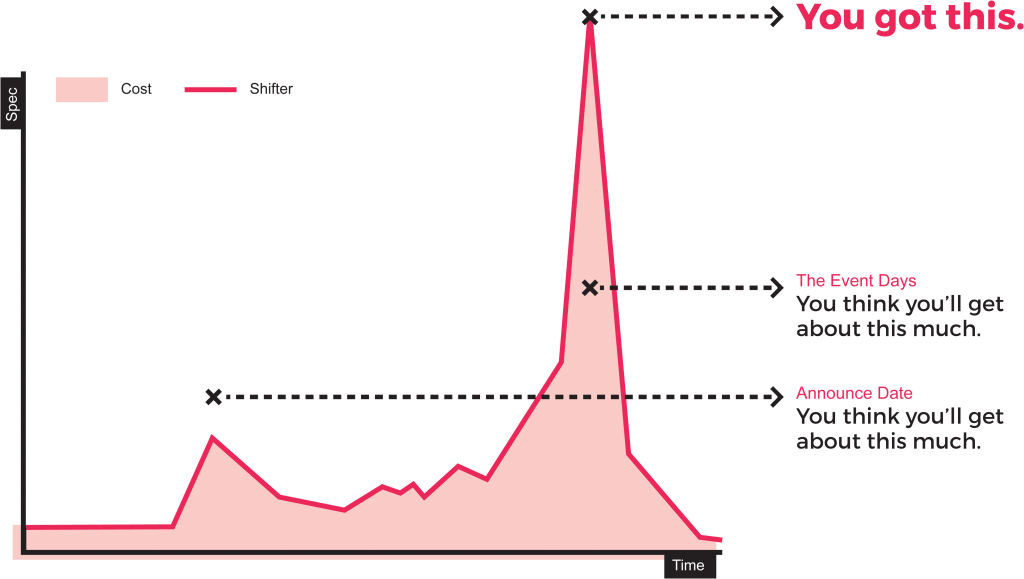 Powered by an Amazon CDN, Shifter scales to meet traffic demands in real-time—and you only pay for what you need and use. That means you'll be ready for any traffic surge, pay only for what you need, and give your customers the uninterrupted service they expect.
Don't just save money—save time
Building, running, and maintaining a website takes time: you have to set up the server, choose the right size, create a caching strategy, and then monitor it for safety and performance. For an event sales site, you'll be manually migrating the site back and forth between smaller and larger servers to accommodate for traffic surges while keeping security concerns top of mind. You'll need to constantly upgrade WordPress, PHP, Apache (or Nginx), and all the other middlewares and tools you use—even when traffic is low.
All of that takes time—time you could (and should!) be spending elsewhere. Let's see what this could look like, before the event and after.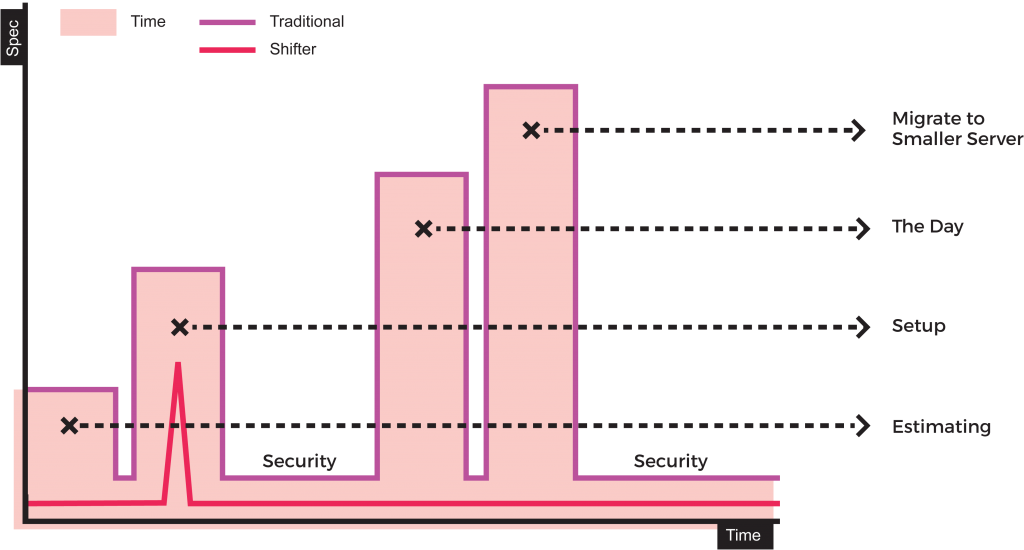 Only Shifter can reduce the cost, effort, and risk associated with manually adjusting your infrastructure for unpredictable traffic spikes. With Shifter, your site will be secure, global, and lightning fast.
Let's review!
You don't know how much traffic you'll get for an upcoming event, so you buy a more expensive infrastructure than you probably need—just in case.
After the event is over, you have to manually reduce your server size again.
Throughout the entire process, you need to maintain the site's security (easier said than done!)
With Shifter:
Pricing starts at $30/month. When traffic spikes for your event, our costs will adjust to cover only the site data and storage capabilities you need.
When the event is over and traffic goes down, costs and storage capabilities adjust automatically.
The site stays secure because there's nothing to hack.
Other benefits:
Only Shifter lets you build a static site on the WordPress platform.
Your static HTML files are hosted on a CDN—not a traditional server—so you can reboot and run WordPress to make site edits without worry about speed or security concerns.
Don't waste another minute—sign up for Shifter and let us do the heavy lifting. Have a specific question? Contact us for more information.