The Shifter Alexa Skill is now available!
This Skill adds Shifter and Serverless WordPress news to your Echo or Alexa enabled device Flash Briefing.
To add Shifter News to your Flash Briefing lineup open the Alexa App on your mobile device and search, Shifter. You can also browse the list of available Skills from the Alexa Skills directory on Amazon.com.
This Skill is available on any Alexa enabled devices such as Amazon Echo Show, Dot, Tap, and more.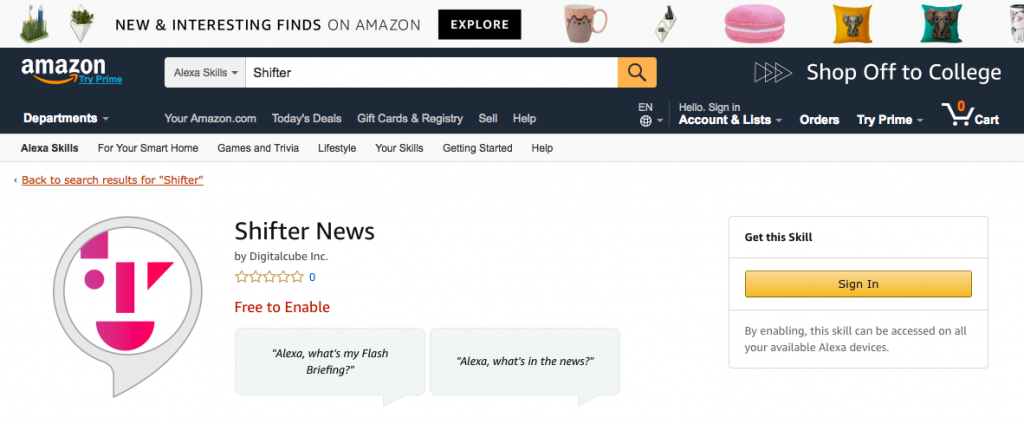 Building a custom Skill with the Serverless Framework
Alexa Skills technically speaking, are Serverless. They live in AWS Lambda and adding them to your device enable your voice to call on those functions seamlessly. Pretty cool!
Amazon offers a variety of resources and tools to help you get started with building your first Alexa skill. Visit the Alexa Skills Kit to get started with your first Hello World Skill!

Alexa Shifter News on Serverless Meetup
We resented our work the Serverless Meetup Osaka in Japan!
Checkout the Speaker Deck here.

Photo credit to @shimy_net
This Shifter News project uses the Serverless Framework and the WordPress Atom feed.
As we publish news and updates to the Shifter blog, our Alexa Skill recognizes those new posts and adds them to the Flash Briefing Queue.
This is the most basic and simple approach to getting started with Building an Alexa Skill using WordPress but that's not all. Developers are finding new creative ways to use voice as an interface and building interactivity, alerts, AI and more into their Skills.
Taking this idea a bit further you can integrate the WordPress REST API, 3rd party microservices, or even Skills using Auth and WordPress to POST data back into your application. It's early days for Alexa Skills, so what feature would you like to see?
Cool, but what's a Flash Briefing?
If you're new to Flash Briefings and have not tried it yet give it a go with Shifter News.
Other popular Skills for this feature include Up First by NPR, The Daily, by NYT, and This Week in Tech. Flash Briefings are a great way to catch up with news and event while making Coffee or an afternoon break.