Japan Amazon Web Services User Group (JAWS-UG) and AWS Korea UG recently had a joint meetup last May and it was a huge success!
Driving the Community Forward: AWS Korea & Japan User Groups Meetup Event
Amazon Web Services User Group Singapore (AWSUG-SG) and Japan AWS User Group (JAWS-UG)
announced the very first joint meetup in Singapore on the 7th of September!
The meetup will be in AWS Offices Singapore from 18:30 onwards.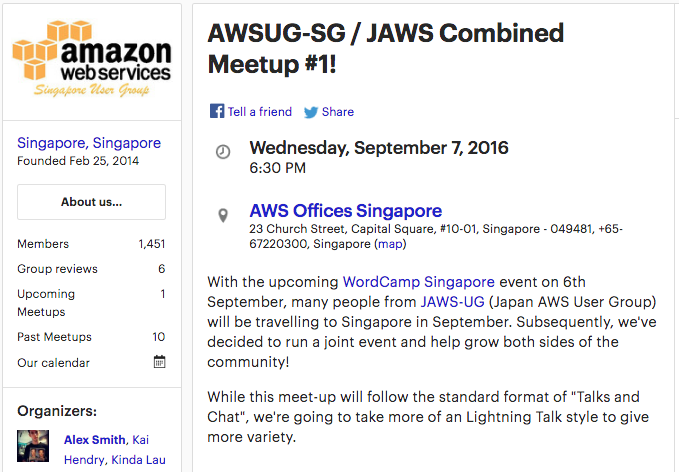 1830-1900: Registration, snacks and drinks
1900-1910: Opening Presentation
1910-1930: Singapore AWS UG Introduction
1930-1950: JAWS-UG Introduction
1950-2000: Refuel Break
2000-2100: Lightning Talks
2100-2130: Networking
2130 onwards: Afterparty (Location TBC)
There are currently 6 available slots for lightning talks (5 minutes / 5 slides), so if you're interested to present, this is the time to submit your ideas.
Everyone's welcome to attend. This meetup is for:
Anyone who wants to know more about cloud computing and startup companies
Anyone who wants to understand the benefits of cloud computing and how to use the "cloud" to benefit their applications and organisation
Startup founders and aspiring founders

This night is not only dedicated for technology and knowledge exchange on Amazon Web Services, but also an exciting event where cultures and communities meet.
AWSUG-SG & JAWS-UG Joint Meetup is now open for registration:
To join the event, register here.