If you're in Poland and looking for a local WordPress meetup, then WordUp is for you.
WordUp is an event for folks interested in all things WordPress, and if you're lucky, the city you're in just might have an upcoming meetup!
WordUps are in cities like Krakow, Silesia, Lodz, Wroclaw, Trojmiasto, Krakow, Torun and Lublin.

We were just in WordUp Lublin #12 last 1st March. It was held at Caffe Trybunalska, from 6 – 10 pm. About 30-35 attendees were in for a WordPress treat:
First off was Maciej Swoboda who talked about "Co Piszczy w WooCommerce". He's one of the organizers of WordUp Warsaw,
His talk introduced new products in WooCommerce 2.5, WC-CLI and eCommerce trends that can help benefit Polish users.
---
"Underscores.me + CSS flexbox = tworzenie motywu w WordPressie" was Grzesiek Durtan's talk that highlighted Underscores intro, including guide to flexbox and tips to easy WordPress theme creation.
His presentation can be found on this link.
---
The final talk was "WordPress w Chmurze" (WordPress in the Cloud) by our very own Matt Pilarski.
Matt covered topics such as what is WordPress, AWS, what you can do with these platforms and most importantly, why choose WordPress on AWS.
His slide on Japan WordPress communities and global AWS user groups show how strong these tech communities are. It's inspiring to see how solid they've become through the years, and this can set a good example to communities like WordUp.
In addition, there was a quick introduction on first steps with WordPress & AWS, user cases, site issues and solutions, AMIMOTO WordPress hosting and differences in self and managed hosting plans.
The spotlight was focused on the most recent DigitalCube service, WooCommerce Powered by AMIMOTO HHVM.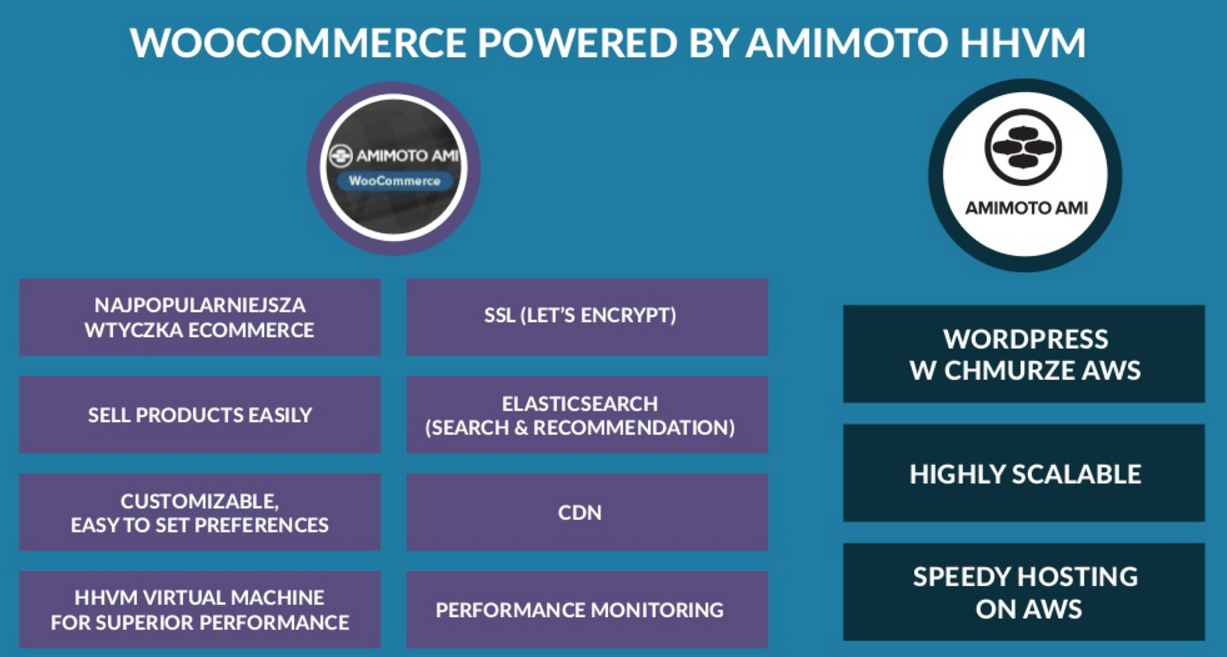 WooCommerce allows you to sell products easily, and set preferences to your shop using the best eCommerce plugin that's pre-installed in your WordPress site with AMIMOTO as your high performance server.
Using the right combination of tools helps your shops and WordPress sites be scalable, speedy and maintains performance for any traffic load.
With HHVM virtual machine, it helps boosts your site speed using just-in-time compilation approach to achieve superior performance while maintaining the development flexibility that PHP provides.
The dashboard for WooCommerce Powered by AMIMOTO HHVM (Managed hosting) is a dedicated control panel.
On the other hand, self-hosting dashboard is the AWS Management Console for managing your server, monitoring resources you're using and keeping track of your customers' interests, buying pattern and behaviors by integrating AWS tools that's available directly from the AWS Management Console.
WooCommerce Powered by AMIMOTO HHVM benefits: SSL (Let's encrypt), Elasticsearch (search & recommendation), CDN and Performance Monitoring.
Questions received after Matt's presentation were:
Is it possible to access phpMyAdmin like in regular hosting providers?
Yes, it's possible to access phpMyAdmin, but by default this option is disabled due to security reasons. It can be enabled anytime by following a simple step by step guide.
Reference: /2014/03/03/wp-cli-db/
Where are the closest datacenters to Poland / which one to choose?
There are 10 global datacenters and 2 of them are close to Poland: Frankfurt,Germany and Dublin, Ireland.
If your user/clients will be located in Poland or Europe you should choose one of these data centers.
By using CDN, Warsaw, Poland is the closest edge location.
Reference: https://aws.amazon.com/cloudfront/details/?nc1=h_ls
Do you have an HTTP2 version of your AMIs?
Yes, you can find one of our preconfigured AMI via AWS Marketplace: WordPress Powered by AMIMOTO (HTTP /2)
We switched our sites to HTTP/2, and you can see it here in action:
Each presentation lasted 30-45 minutes with Q&A where a 10-minute break followed. Networking and socialization began at 9pm.
WordUp Lublin #12 was geared towards developers, users and most especially those interested in tips, site creation and moving from another CMS to WordPress. It was a pleasure visiting Lublin!